A couple of weeks ago I had a request come through for some Rainbow soaps. I was excited! Not only a request for my soaps, but a challenge! Ideas started running wild, however I was instantly drawn to doing a rainbow butterfly. One that is vertically striped.
And I'll do it. One day. Just not today. MUCH harder than I thought!!
I started trying horizontally striped butterflies, until I remembered that pink isn't in the rainbow colour list and stuffed myself up. Doh!
I spent nearly an entire day continually going back to my mold storage draws looking for inspiration. I knew what I wanted to do, but I couldn't figure it out. I looked at the different molds I had – butterflies, bugs, love hearts, etc, but nothing jumped out and said 'yes, I am the one!' Then, in the fourth draw, BINGO!!
My Popsicle mould!! I hunted everywhere for this mould, and now, finally, a reason to use it! It was a bit trickier than it looked, and the first colour pour saw me spending tripple the time cleaning up the runs down the edges than it did pouring. But I'm smart, and on the second colour pour, I did so through a funnel! Brilliant! No mess to clean up.
It took the better part of the afternoon getting them done – at least 4 hours that I counted. I also poured 'by eye', meaning my levels in each mold were eyeballed and not numerically measured out or guided by a line. That's why one of them has a veeeeery thin line of yellow. Oopsie!
That said, I'm MEGA happy with the results!!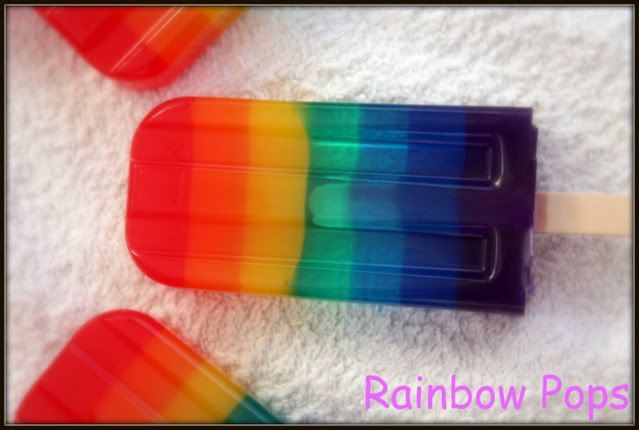 Getting these suckers OUT of the mould was the hardest part. So hard in fact that I broke my mould!! Only a little bit, and won't affect it's use, but still, there is a little tear where there wasn't one before. Once I worked out the trick however (push from the bottom, don't try and pull from the stick), they popped right out!
I think I will need to add an extra label to these soaps – DO NOT EAT! My patience got a wee bit tested when Miss 4 saw them the next morning and didn't seem to understand that she couldn't eat them. Scenting them with Jelly Beans probably didn't help …
ShareA couple of weeks ago I had a request come through for some Rainbow soaps. I was excited! Not only a request for my soaps, but a challenge! Ideas started running wild, however I was instantly drawn to doing a rainbow butterfly. One that is vertically striped. And I'll do it. One day. Just not…
Read More